Have you noticed any of these signs lately – slow drains, frequent clogging, sewer smell in the house, an unusually lush green patch outside, mold in the basement? All these are the most common signs of a damaged sewer line. So, what should you do if you notice any of these signs? Let's find out. 
If you have a damaged sewer line, it's important to act fast to avoid further damage to your home and property.

An optimally functioning sewer line is essential for the health and well-being of your family. Sewer issues can cause additional damage to surrounding pipes, drains, and your property in general. If sewage water begins seeping into your home, the resulting damage can be costly and take longer to repair. That is why it is crucial to act quickly when dealing with a sewer issue.
The first step is to call a professional sewer repair company in Springfield who can assess the situation and make the necessary repairs.
Calling a sewer repair professional is the first step in solving any sewer damage issue. These experienced technicians have the knowledge and skills required to assess the situation and take the necessary steps to repair it. They can look for blocks, bends or breaks in the sewer lines and unclog or repair them. An experienced plumbing repair team will also be able to correctly identify and diagnose any issue that can potentially arise in your home or business, providing you with efficient solutions for long-term results.
In the meantime, there are some things you can do to minimize the damage, such as turning off your water supply and avoiding using drains or toilets in affected areas.
In the event of a plumbing emergency, there are several steps you can take to minimize the damage caused to your home. First, turn off your water supply right away. If a drain is clogged or overflowing, avoid using any other drains or toilets in affected areas to prevent further backups. 
Look for previous inspection and repair reports, if any, and keep them handy in case the plumber wants to see those.
Once the repairs are made, be sure to have the area inspected by a qualified professional to ensure that everything is up to code and functioning properly.
Having a qualified professional inspect the area after repairs have been made is essential to ensuring that the work has been completed correctly. Most often, the plumber who did the repairs or a supervisor can provide an inspection and repairs report. A plumber can verify that any drain unclogging or necessary fixes are up to code, which makes their services a valuable asset when it comes to successful plumbing maintenance. Making sure you hire the right person for the job will ensure that all repairs undertaken remain safe and secure and will save you from potential legal repercussions or penalties down the line.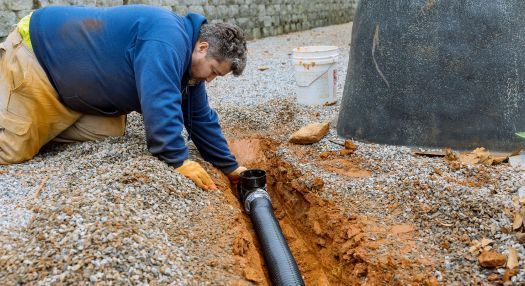 Having troubles with a damaged sewer line? Call a plumber near you right away!
A damaged sewer line will give warning signals like slow drains, sewer smell in the house etc. Call a plumber immediately; don't wait untill the problem turns into a backflow or backup. This is a common misjudgment we see in most cases of delayed repairs for a sewer line. When confronting a plumbing issue in Springfield, The White Plumbing Company is here to help. Our skilled professionals have decades of experience in the industry, so you know you'll get quality repairs at competitive prices. Plus, we prioritize our customers' well-being and satisfaction above all else. So if you're looking for a reliable plumber in your area, don't hesitate to call us right away – we are here to take care of your plumbing problems with efficiency and expertise. Contact us today at White Plumbing for all drain and plumbing issues – don't delay getting the right team on board!